Level up your curriculum with Gameful!
Great games and great lessons both have autonomy and mastery at their core. Players/learners face meaningful choices and see their skills improve with time.  A Gameful class website helps you organize these choices to increase motivation and improve outcomes for learners. 
Empower, Engage, and Inspire!
Get started now with an unlimited time trial. No credit card needed.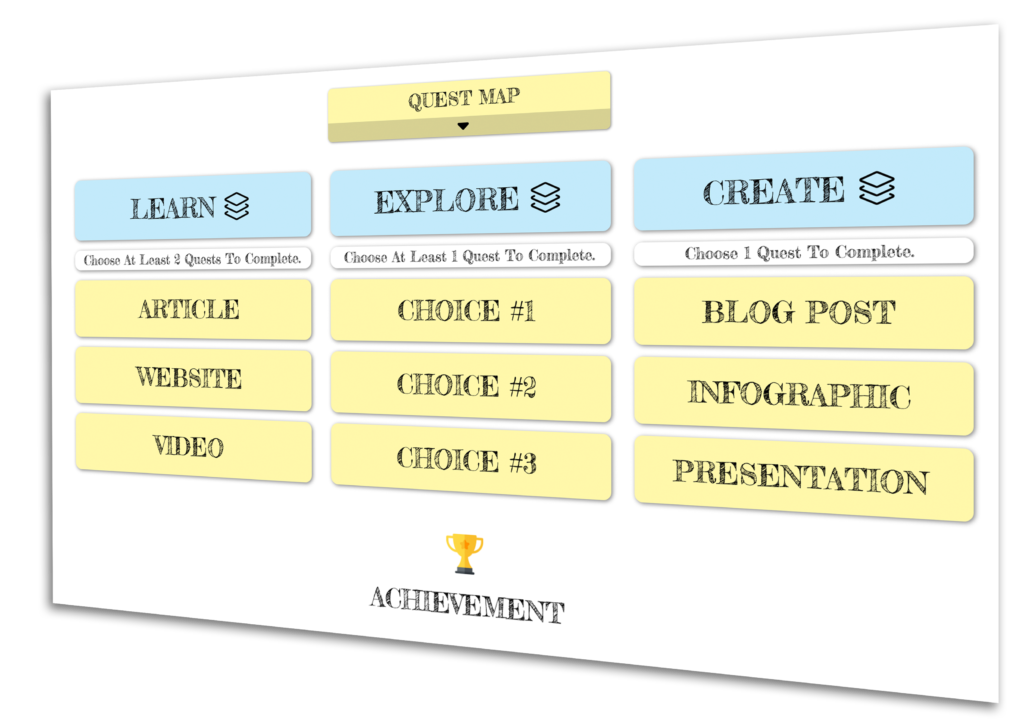 Move beyond generic gamification to gameful learning.
Unlike generic gamification that solely uses points and badges to change behavior, with Gameful you can create organized paths for individual learning that fast-track student motivation. And don't worry, we still have points and badges because those can be fun too.
You build the game that works for you.
Warning: you should only start using Gameful.me if you want to fundamentally alter everything about your classroom. In fact, "classroom" isn't even the right word anymore. As I look around my room I see students creating projects that I could never have conceived in a rubric for them. They're instinctively connecting multiple Quests to create work that shows their cumulative knowledge. They go above and beyond not because they're being pressured to, but because they want to. Students want to achieve and do their best. They want quick, helpful feedback to improve. All of us want to do this without getting our hands dirty in a grade book. This didn't happen overnight, and it wasn't always easy, It started small and will continue to grow to create an absolutely engaged and motivated classroom full of students. If that's not the definition of win/win, I don't know what is.
Gameful.me is the core of my personalized classroom. Students come in early and stay late consistently, are self motivated and self directed. To say this has significantly and positively changed my classroom environment, my interactions with students, and performance in the course is to radically understate the case. I can't thank you guys enough!
I can't imagine teaching without Gameful. I have all the data that I need for assessment at my finger tips. I have students showing up to class 45 minutes before the start of school. (These are teenagers!) They stay past their allotted class time. They come after school. They work like demons. They explore enrichment items when they are done with their own work. There is no down time. There are very few behavior issues. I have the best attendence record in the school. And I have only just begun. There is so much more I can do with the Gameful system to let my students fly in their own direction. I have so many ideas for how to improve the game, student buy-in, and educational richness. For the first time in many years, I can't wait until next year.
Classroom of the Future Foundation 
2021 Innovate Award
Gameful.me partnered with librarians in the Grossmont Union High School District on a Summer Reading Program that earned the 2021 Innovate Award from the Classroom of the Future Foundation. While schools were closed during the pandemic, students were engaged in reading for fun.